Computer problem causes long lines for voters
Published: Oct. 30, 2012 at 10:25 PM EDT
|
Updated: Oct. 30, 2012 at 10:31 PM EDT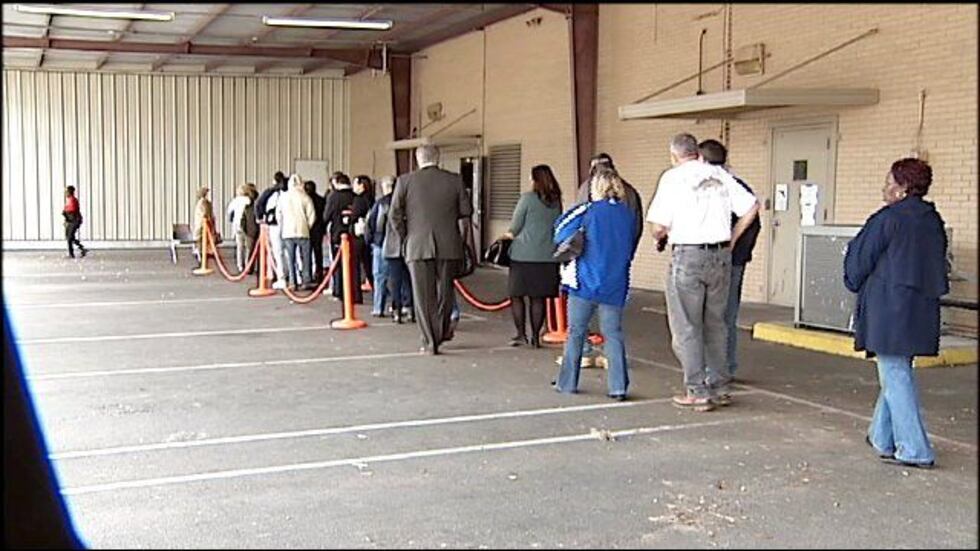 CHARLESTON COUNTY, SC (WCSC) - An issue at the polls kept some voters waiting for more than an hour in Charleston County.
At about 10:30am Tuesday morning, the state's voter registration system experienced a failure at the absentee polling place in North Charleston.
Joseph Debney, the Executive Director of the Charleston County Board of Elections and Voter Registration, said the program stopped assigning absentee numbers.
"When we reached 32,768 application numbers, it said, 'no more -- you can't print anymore at this point'," Debney said.
He said that while the State Election Commission in Columbia worked to increase the maximum number of voters allowed in the system, poll workers had to fill out voter information by hand.
"We went back to the old days of physically writing out the application and letting people vote," Debney said.
The manual applications caused a long line at the polling place. Some voters report waiting up to 90 minutes to cast their ballot.
"Everybody else told me they just walked in and that's the end of it, but not so today," absentee voter Pat Pribek said.
The problem was resolved at around noon on Tuesday. Debney said he could not pinpoint why a maximum number of voters was set.
"We were told there would be no threshold that we would ever hit," he said. "Apparently statewide, our numbers in absentee have grown so much that we hit some sort of threshold."
Similar issues were reported at absentee polling locations across the state, but according to the Director of Public Information at the State Election Commission Chris Whitmire, they were resolved within minutes.
Debney says the average time spent at the polls for absentee voters is five to 10 minutes.
The Charleston County absentee precinct is located at 3691 Leeds Ave, North Charleston. In-person absentee voting ends on Monday, November 5th. Hours of operation are Monday through Friday 8:30 am to 5:00 pm.
All voted ballots must be received by the Board of Elections and Voter Registration Office no later than 7 pm on Election Day.
Copyright WCSC 2012. All rights reserved.