Haley announces Tim Scott as DeMint's Senate replacement
Published: Dec. 17, 2012 at 1:16 PM EST
|
Updated: Dec. 17, 2012 at 6:21 PM EST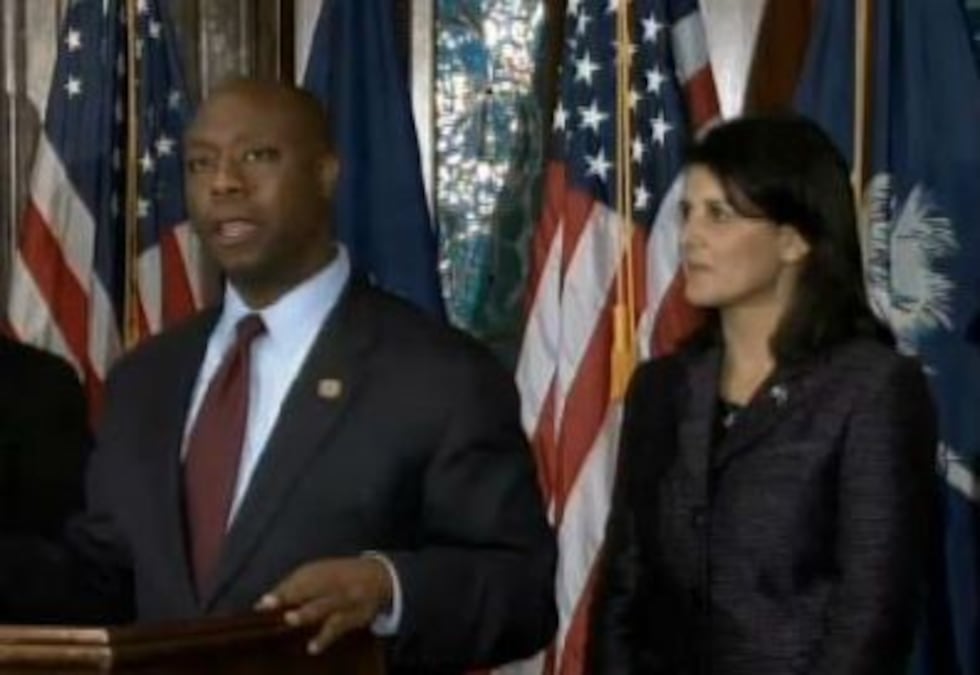 COLUMBIA, SC (WIS) - Governor Nikki Haley has named Lowcountry House member Tim Scott to succeed U.S. Senator Jim DeMint, a choice that gives the U.S. its first black senator from the South in more than a century.
"This is the right U.S. Senator for our state and for our country," said Haley, who was flanked by DeMint, U.S. Senator Lindsey Graham and others from South Carolina's legislative delegation Monday afternoon at the State House.
Scott, 47, started his statement with a moment of silence for the school shooting victims in Sandy Hook, Connecticut.
He then said the country needs backbone to make difficult decisions, but was optimistic about the Palmetto State. "Boy, does the future look great in South Carolina," said Scott.
Scott grew up in poverty in North Charleston. His parents divorced when he was 7, and he remembered his mom working 16 hours a day to support him and his brother. Scott, who is single, introduced his mother at the beginning of his speech.
But growing up with a single mother wasn't always easy, Scott said. In high school, he was in danger of flunking out until he met the late John Moniz, a conservative entrepreneur who ran a Chick-fil-A beside the movie theater where Scott worked.
They became friends and Scott said Moniz taught him important values, like how enlightened self-interest requires giving first before reaping the reward of receiving and how growing the value of how you see yourself will make you look more important in other people's eyes.
Scott would go on to get a degree in political science from Charleston Southern University, which is affiliated with the South Carolina Baptist Convention and touts how it integrates faith into learning and serving.
Scott said he wouldn't have agreed to be a U.S. senator if he didn't think he could make a difference.
"Governor Haley has made a great choice for South Carolina and the nation," said DeMint in an emailed statement. "Tim Scott is a principled leader and will make an outstanding senator for the people of the South Carolina and an important voice for conservatives across the nation."
"I've known Tim for years and am confident he will serve our state with honor and distinction," continued DeMint. "He's become a good friend who I know he cares deeply about the future of our nation and will fight to increase freedom and opportunity for everyone. I will do everything I can over the next days and weeks to ensure the transition is smooth and that Tim has everything he needs from my office to hit the ground running."
Prior to being elected to Congress in 2010, Scott served on Charleston County Council for 13 years, including four terms as Chair and in the South Carolina House of Representatives for two years where he was elected Chairman of the Freshman Caucus and House Whip.
Scott will be the state's first black senator and the only black Republican in Congress, a point the state's senior senator mentioned during his comments on Monday. "This is a day that's been long in the making in South Carolina and I'm proud to see it happen," said Lindsey Graham. "He's a better person than he is a politician. Tim is what America's all about."
"South Carolina Republicans are thrilled with Governor Haley's historic selection of Rep. Scott," said South Carolina Republican Party Chairman Chad Connelly. "Rep. Scott embodies our American dream. He is a man of faith, a small businessman, and a consistent voice for common sense reforms. We look forward to Rep. Scott carrying Senator Jim DeMint's torch of conservative leadership."
DeMint announced two weeks ago that he would abandon his seat to run the Heritage Foundation, a conservative Washington think tank.
Scott will serve for two years and then face an election in November 2014 should he want to seek a term. That would give South Carolina two Senate elections - one for Scott and the other for two-term Republican Sen. Lindsey Graham.
Copyright 2012 WIS. All rights reserved.