Leaders break ground on development in Cainhoy Plantation
Published: Jun. 15, 2017 at 3:24 PM EDT
|
Updated: Jun. 15, 2017 at 6:19 PM EDT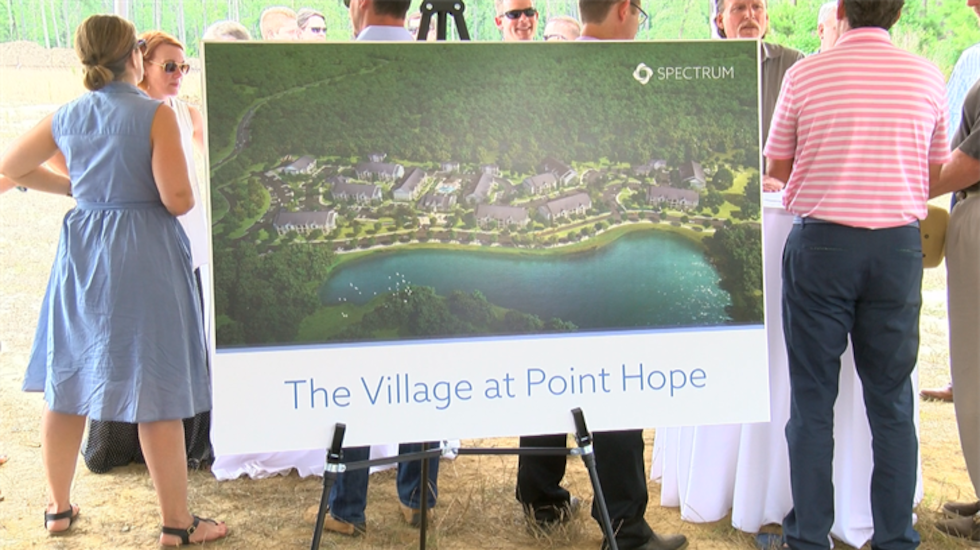 CAINHOY, SC (WCSC) - Development leaders broke ground Thursday afternoon on what they call the last undeveloped borough in Charleston.
Employees with The Spectrum Companies held a ground-breaking ceremony for a new 274-unit apartment complex called The Village at Point Hope in the future Cainhoy Plantation community.
"The Village at Point Hope will embrace the high expectations for a master-planned community of this stature, and will offer high-quality apartments and amenities with great proximity to both Charleston and Mt. Pleasant," said Steve McClure, Chief Operating Officer of The Spectrum Companies.
The 16-acre apartment complex is part of the 9,000-acre tract of land near Daniel Island which will soon become home to a mix of residential, retail and commercial development.
"County leaders are excited for the opportunities ahead for the Cainhoy Plantation community, which will integrate new residential, recreational, educational and commercial development," said Berkeley County Supervisor Bill Peagler. "Today's groundbreaking serves as a stepping stone to a promising future for growth and development not only for the Cainhoy area but also for Berkeley County as a whole."
"We are delighted to partner again with Spectrum to lead off development of the Cainhoy property, which will include a range of housing options and connectivity between neighborhoods, schools, shopping, culture and environmental assets," said Matt Sloan, President of DI Development Company, which is managing the Cainhoy development.
Sloan said the first school in the area recently finished its inaugural year, and the second school is expected to open in August.
The Village at Point Hope will include a fitness center, clubhouse, salt water pool, a spacious courtyard and grilling area. Apartments will range from studios to three bedrooms.
"This has allowed us to build it so we could have a lower priced rental, so we can be affordable to a larger number of people," McClure said. "We believe that segment of the population hasn't been hit as much with all the development going on in Mt. Pleasant and the peninsula."
Spectrum manages properties across the southeast including in Charlotte and Nashville. McClure said the market for this area of Charleston is ready for livability.
"The lifestyle you see people having here, we really think people are going to move here," he said. "With Boeing expanding and the Volvo plant, [and the deepening of the Port] there's a lot of synergy. It's an exciting time to be here in Charleston."
Not everyone is excited though, mainly because of a major issue locals deal with daily.
"It's really unbelievable," said Katy Oakley, of Cainhoy. "I did not expect for this much to go on. I've lived here since I was born and just seeing everything go up is sort of nerve-racking because traffic is already such a huge issue."
2015 data from the Berkeley Charleston Dorchester Council of Governments shows nearly 14,000 cars travel the Clements Ferry Road area of Cainhoy every day. Currently, crews are in the process of widening the road.
"It's frustrating but at the same point at least they're working on the road," said Jessica Gramling, who lives along Clements Ferry. "It's nice to see that they've got that going on. Hopefully that gets done before Cainhoy is done and all."
"The property is still very much in the planning stages, but it is likely the first residential neighborhood will be introduced sometime in 2018," said Carolyn Lancaster, Vice President of Marketing for DI Development Company. "The property will be developed over the course of decades, likely 40 to 50 years."
Sloan added his company is also close to announcing a grocery-anchored shopping center in the community.
The Cainhoy property is bordered by the Wando River, two creeks, and 22 miles of saltwater and marsh shoreline. It is permitted for as many as 18,000 homes.
According to Charleston city documents, the land was purchased in the 1930s by Harry Frank Guggenheim and used for recreation and timber production. In 1971 Cainhoy was left to Peter Lawston-Johnson in a family trust. Currently, the land is part of the Guggenheim Partners and Guggenheim Family Holdings.
Copyright 2017 WCSC. All rights reserved.