Remembering the Orangeburg Massacre 50 years later
Published: Feb. 7, 2018 at 9:39 PM EST
|
Updated: Feb. 8, 2018 at 3:58 PM EST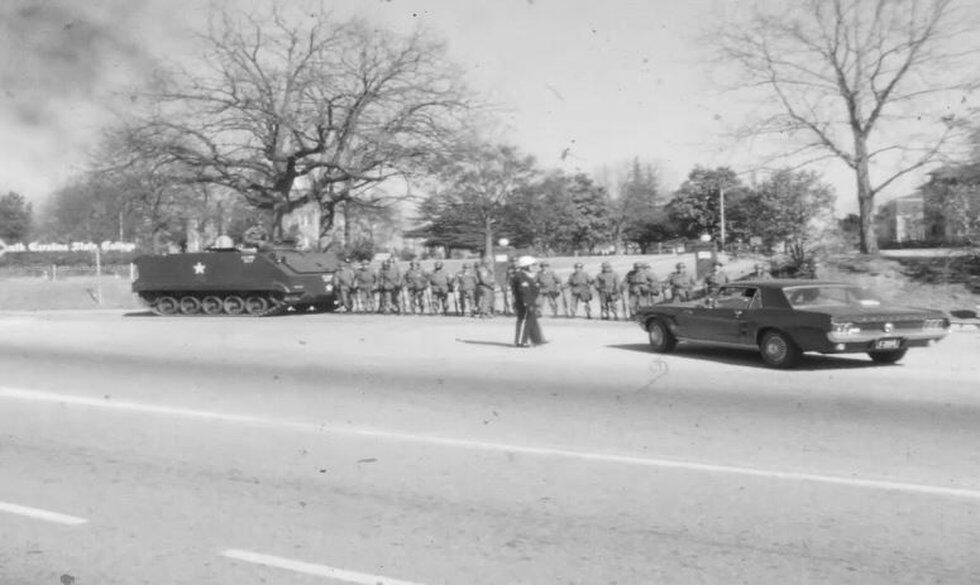 ORANGEBURG COUNTY, SC (WCSC) - One of America's least talked about moments of the Civil Rights movement unfolded with gunfire outside an Orangeburg bowling alley.
After the shooting stopped, three students would be dead and more than two dozen wounded in a tragic event known as the Orangeburg Massacre.
Former Charlotte Observer reporter Jack Bass began chronicling the story when it happened five decades ago.
"It is the most unknown story of the Civil Rights era," he said.
Bass has written the definitive narrative giving life to the events. His book is called "The Orangeburg Massacre."
The deadly violence unfolded on the campus of South Carolina State University in Orangeburg, South Carolina, on Feb. 8, 1968. Conflict came to town when African American college students wanted to integrate what was then an all-white bowling alley.
Businessman Harry Floyd owned the All Star Bowling Lanes and refused to comply with the Civil Rights Act of 1964, which would have opened the doors to anyone who wanted to come.
John Stroman was one of the students who attempted to integrate the bowling alley and was thrown out.
"You all can't come in here," Stroman recalled. "Everything we touched - they put in the trash."
Tensions escalated.
On the night of Tuesday, Feb. 6, a group of protestors from the school had gathered at All Star Lanes to express their frustrations against the all-white policies.
Renowned Civil Rights photographer and Orangeburg native Cecil Williams was there with his camera.
"It's very unusual that much of tragedy would not have more national or international interest," he said.
Sitting in front of one his images, Williams reflects on that chaos that came after a key moment in the protest at the bowling alley.
"Minutes after this picture was taken, someone accidentally broke a window in this mall and everyone started running," Williams recalled.
One of the students caught in the melee was sophomore Emma McCain.
"The push of the crowd is what broke that window," McCain said. "I want to make that clear because I was right at the front of the bowling alley when that happened."
McCain was held by two officers while a third officer clubbed her.
"It's like they were trying to teach me a lesson for being there. You know, 'don't come back.' That kind of thing."
That week, Governor Robert McNair dispatched upwards of 1,000 National Guardsmen with rifles and tanks to support more than 100 members of the South Carolina Highway Patrol.
Two nights later, tensions on February 8 escalated on the South Carolina State Campus. Orders came to contain and keep the students on campus.
History professor William Hine was at the university on the night shots were fired.
"The highway patrolmen came on the embankment and fired into anywhere from 100 to 200 plus students," he said.
Thomas Kennerly was among the wounded.
"I was hit three times, and I didn't know that I was hit," Kennerly said. "I got hit in the sole of my shoe. My left hip and my right arm, while I was crawling toward the interior of the campus."
Also hit that night was Civil Rights activist Cleveland Sellers Junior. Before coming to Orangeburg, Sellers had been involved in protests and demonstrations as a member of the Student Non Violent Coordinating Committee.
"I was shot in the left shoulder that night along with the others," he said.
He was forced to leave the hospital by members of the South Carolina Highway Patrol.
"I was arrested for five felonies including assault on a police officer with intent to kill and breaking and entering, arson. You name it," Sellers said. "Burglary, grand larceny. Rioting. One count of riot."
Writer Jack Bass remembers what happened next.
"They put him in a Highway Patrol car maybe going 90 miles an hour, nearly 85, and took him to the state penitentiary," he said.
After entering what was then called CCI, Sellers would be taken to an area of isolation.
"I asked where was I located, and that's when then told me that I was located on death row, and that was the insult to the injury," Sellers said.
All of that was happening as families were getting word about loved ones who faced gunfire.
Alonzo Middleton's uncle, Delano Middleton, attended a local high school in Orangeburg. He was visiting the campus and faced the same gunfire that took the lives of SC State students Henry Smith and Samuel Hammond.
"I remember the night like yesterday night," Middleton said. "I was asleep, when my grandmother came back from the hospital, all I could hear was this piercing moaning crying going on."
Delano Middleton, Henry Smith, and Samuel Hammond all died as a result of the campus shooting.
The next year, Nine South Carolina Highway Patrolmen faced federal charges and would go on trial for the deaths of three students and wounding more than two dozen others.
They would be found not guilty.
This February marks the 50th anniversary of what happened, and critics believe that the State of South Carolina has done little to set things right.
Congressman Jim Clyburn is among those who would like see the state of South Carolina take a stand years later.
"You cannot pretend things didn't happen," Clyburn said. "These things happen and people often say that things happen for a reason."
Clyburn is among those who feel not enough has been done to acknowledge the past.
"Take ownership of what was a real bad situation and see if you can you do something positive about it now," the congressman said.
In the last 50 years, the state has not admitted fault, assumed responsibility, or made restitution to the survivors or the victims' families.
One former governor would like to change that.
Jim Hodges was the only South Carolina Governor ever to attend the annual memorial service that pays tribute to the dead and injured.
"As governor at that time, I thought it was important to go to Orangeburg and talk openly about it," Hodges said. "To see if we could try to come to some closure on it, and most importantly, learn some lessons from it that weren't learned years ago."
Orangeburg continues offering lessons from the past that still impact present-day attitudes and realities.
Copyright 2018 WBTV. All rights reserved.