Charleston City Council approves resolution to denounce, apologize for city's role in slavery
Published: Jun. 19, 2018 at 9:41 PM EDT
|
Updated: Jun. 19, 2018 at 11:32 PM EDT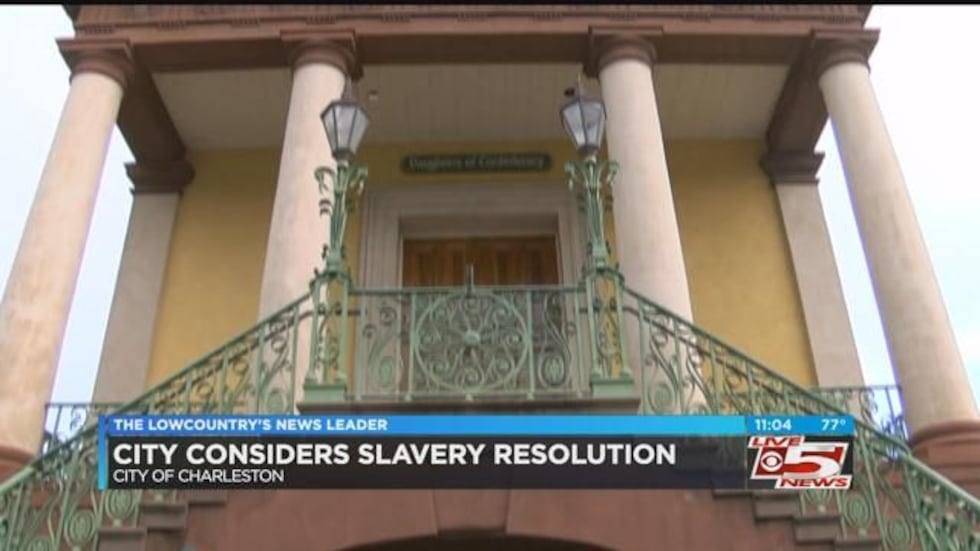 CHARLESTON, SC (WCSC) - Charleston City Council has approved a resolution to denounce and apologize for the city's role in slavery.
The resolution offers a denouncement of slavery and a promise of tolerance in the future. It also proposes an office of racial reconciliation.
Before the vote took place, there was a lot of back and forth among council members.
Council passed the resolution with a vote of 7-5.
This make Charleston the first city in the state and the country to apologize for its role in slavery. Tuesday is also "Juneteenth," a celebration of the end of slavery.
Mayor John Tecklenburg spoke in Tuesday night's meeting and became emotional saying repentance is more than saying you're sorry.
Some council members said they would not support the resolution, and spoke about other actions they can do rather than pass the resolution.
Councilman Harry Griffin said we should look forward and not backwards.
"What's going to make our ancestors more proud, this piece of paper or fixing flooding on Huger Street?" Griffin said.
Griffin said apologizing for something that was wrong at the time but legal, and nothing we took part of, but now know is wrong, is picking and choosing history.
Griffin also asked for the word "apology" to be removed from the resolution.
Councilman Perry Waring also said the city needed to focus on economic development rather than the resolution.
"We need to work on the economic side of things so our community can go forth together in harmony and financially," Waring said.
Councilman Robert Mitchell said it was disturbing hearing his colleagues thoughts on the resolution.
Mitchell said the city can make changes and have to start somewhere.
Councilman William Dudley Gregorie, who spear headed the resolution, said he was disappointed in what Griffin said. Griffin worked on writing the resolution with Gregorie.
Gregorie said it was important for Charleston to be the first city in the country to pass this resolution because slavery started here.
"It shows our city is a progressive city," Gregorie said."We are going to do everything to get rid of evil starting with the issues of the past."
Gregorie said Tuesday night was a historic moment in the country, and hopes it has a ripple effect.
"I think it's overdue that we denounce and apologize for slavery, and I don't think people should take this as an individual apology," Gregorie said. "This is an apology from a city that is or was the seat of the Confederacy."
Gregorie says that a local group, the Social Justice Racial Equity Collaborative, came to him and proposed the resolution.
According to the International African American Museum website, almost half of all enslaved Africans who came to the United States first arrived in the port of Charleston.
Copyright 2018 WCSC. All rights reserved.